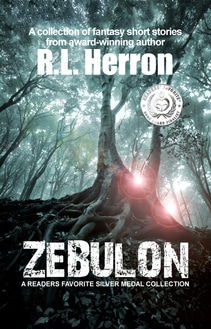 Zebulon
by R.L. Herron

More than simple fantasy, these are stories of life.
​
A superb collection of fantasy short stories from the award-winning author R.L. Herron.

This fascinating collection includes tales dealing with everything from quantum physics and near-space travel to sentimental ghost stories, aliens and improbable deals with the devil. Stories of life, love and the twisted experiences of ordinary, if not exactly normal people ... where they think no one can see them.


---
---
2013 READERS' FAVORITE SILVER MEDAL WINNER
"5-STARS! A highly imaginative author ... with wit and style ..."
~ Tamara Lawrence for Readers' Favorite

"... be prepared to ooh, ahh, curse and sigh; because you can't read
these stories quietly ..."
~ Siobhan McKinney, Author & Editor, Northern Ireland
​

---
Buy "ZEBULON" now, at one of these retail sites,to start the adventure today.Amazon, Barnes & Noble

,

Amazon UKPages:

Approx. 155

Language:

English

ISBN-13:

978-1475299229

ASIN:

B007ZL0V2Y

Dimensions:

5.5 x 8.5 inches