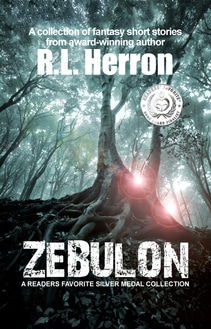 Zebulon
by R.L. Herron

More than simple fantasy, these are stories of life.
​
A superb collection of fantasy short-stories from the award-winning author R.L. Herron.

A fascinating collection including tales dealing with everything from quantum physics and near-space travel to sentimental ghost stories, aliens and improbable deals with the devil. Stories of life, love and the twisted experiences of ordinary, if not exactly normal people....


---
---
2013 READERS' FAVORITE SILVER MEDAL WINNER
"5-STARS! A highly imaginative author ... with wit and style ..."
~ Tamara Lawrence for Readers' Favorite

"... be prepared to ooh, ahh, curse and sigh; because you can't read
these stories quietly ..."
~ Siobhan McKinney, Author & Editor, Northern Ireland
​

---
Buy "ZEBULON" now, at one of these retail sites,to start the adventure today.Amazon, Barnes & Noble

,

Amazon UKPages:

Approx. 155

Language:

English

ISBN-13:

978-1475299229

ASIN:

B007ZL0V2Y

Dimensions:

5.5 x 8.5 inches