"Don't tell me the moon is shining; show me the glint of light on broken glass."
~ Anton Chekov
---
Welcome to the Website of Award-Winning Author R.L. Herron
---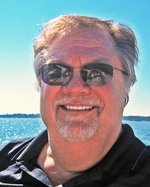 Award-winning author R.L. Herron grew up in the Detroit suburb of Ferndale and has published multiple works of fiction. A member of the National Writers Association, the Association of Independent Authors,
Michigan Writers,
the Alliance of Independent Authors
(UK),
and the American Academy of Poets, he once worked for some of the world's largest advertising agencies and an international Fortune 10 Corporation.
His musical taste leans toward classic, bluesy rock
(like Bob Seger
or
Creedence)
and, although he hates the winters in Michigan, he still lives and writes there with his lovely wife, an ugly mortgage and one extremely large cat.
Ron was delighted to receive reviews that compared some of his work to the writing of Stephen King and Ray Bradbury. He is available to talk to book clubs, bookstores, conferences, libraries and schools.
---
---
Don't forget to follow Ron's interesting posts about indie writiing on
The Twitter
.
---
Ron also blogs about the craft of writing on his well-followed blog: Painting With Light

.
He invites you to follow him there and, if you have time, check out his profile on

Booklife

and
Goodreads.
He would also be thoroughly delighted if you would like and follow his
Book of Face
page.
To contact him with a question, simply
write to him
on his business site and ask your question directly.
He promises not to bite..
* * * * *
---