Contact Page

---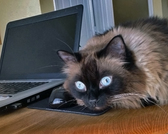 Whether it's a simple inquiry, a word of praise or a scathing criticism (OK, he's not really interested in that last one), Ron values your input and hopes readers will let him know what they think of his books and web site. Use the contact section below to ask him a question, arrange an interview ... or just to say hello to Bear (above)!

---
Don't forget ... you're invited to follow Ron's blog about indie writing: Painting With Light.
Please also follow and "like" his Book of Face page, and follow him on ​The Twitter,
or simply write to him and ask your question directly. He promises not to bite.
(so does Bear).

BLOGGERS & MEDIA FOLKS
:
You can also visit Ron's
Media Pages
for more interesting information to use in your articles or blogs.
---